COOL NEW STUFF AROUND TOWN!
"Remember: smart adventurers always call or visit the website before heading off on the next adventure."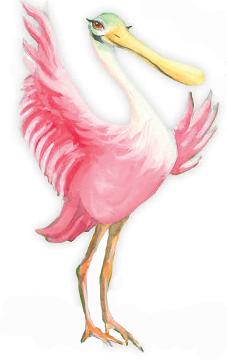 New Creatures At The Zoo
Meet the Clouded Leopards on Tuesday, Thursday, Saturday and Sunday. The other days of the week the Spotted Leopard takes over! Want to get up close and personal (but not too close!) to slithering snakes? Show up for the Reptile Rendezvous at 12:30 every day! And wait till you see Fred and George, those adorable baby lemurs on the primate island!
Bounce!
When you're so full of energy you want to jump right out of your skin, head straight to BOUNCE! Trampoline Sports. This indoor jump house has separate trampoline sections and foam pits for all ages from toddler to teens, awesome laser light shows and lots more! bouncenaples.com (239) 302-3848
New Horse and Carriage Ride
Want to celebrate a birthday or give the kids a fairytale surprise? Check out Palm City Carriage Tours where you can enjoy the clip clopping hooves of Midnight Raven who will will carry you in style through Old Naples and down to the Pier. palmcitycarriagetours.com (239) 887-1161
It's a Bird, It's a plane, It's...
...Grandma! At the House of Flyte aerial studio kids can swing in hammocks above the floor with mom, dad and even the grandparents. Kids 14 and above can come with a grown-up. Private sessions for younger kids are also available. houseofflyte.com
(239) 260-7782
New Pioneer Exhibit
Want to travel back in time to the "olden" days? We love the new exhibit, The Pioneer Era: A Tale of Two Villages, at the Marco Island Historical Museum. Its life-size people look so real in this re-creation of Marco back in the 1800s.
Big Cypress Shootout Changes
We love the ka-boom and smoke from all that musket fire, as we watch the Seminole Indians battle the U.S. Militia in the Seminole Wars. It's still happening, but it's now part of the American Indian Arts Celebration held at Ah-Tah-Thi-Ki Seminole Indian Museum in November. There are also Indian dances, crafts and cool Seminole food.
Panther Festival Moved
New location: Naples Zoo. New date: November. floridapantherfestival.com
More Stables
In addition to M&H Stables (which we love), we found another great place for trail rides, lessons and parties. Check out The Stable Life in Immokalee. thestablelifeatavemaria.com (970) 799-4644
Old Florida Festival New Dates
This awesomely cool weekend event featuring prehistoric Calusa Indians, Spanish Conquistadors, soldiers from many wars, Native American dancers and more is now held in November. Same great location: Collier County Museum. oldfloridafestival.com