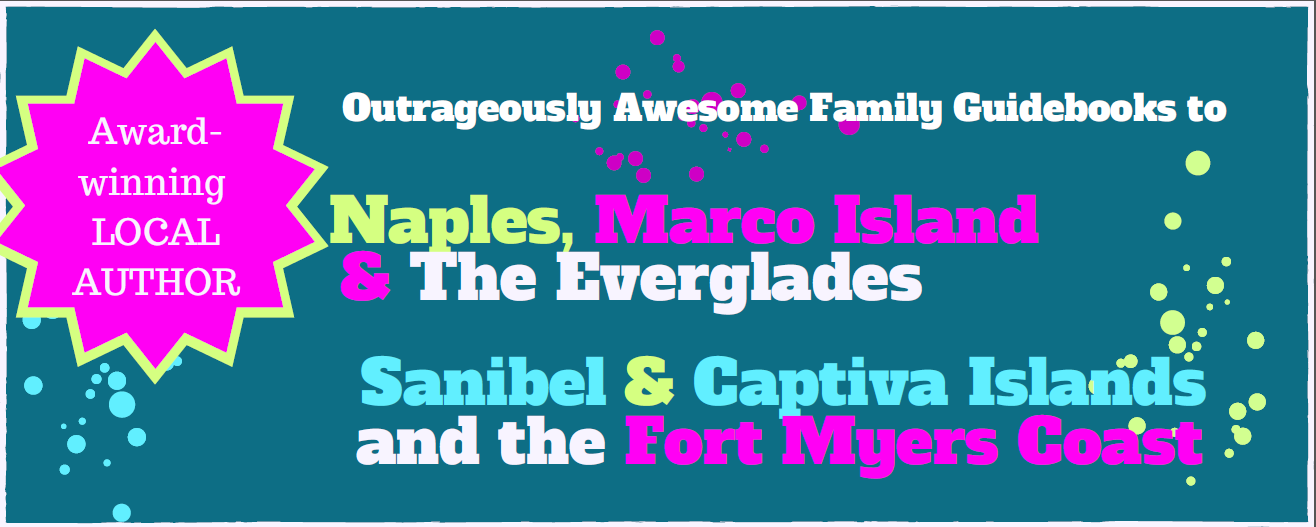 Reviews and Quotes about
A (mostly) Kids' Guide to Sanibel & Captiva Island and the Fort Myers Coast
Fort Myers Florida Weekly
Dazzling, Humorous and Information-Packed Books...Excitement is Everywhere!
WOW! is the word for this second entry into Karen T. Bartlett's Mostly Kids' Guides series. While these dazzling, humorous and information packed books are aimed at kids, even a 75 year-old like yours truly can enjoy them. What's not to like? An intense color palette, high-energy graphics and the friendly voice of a caring storyteller combine with a treasure trove of data and plenty of kid-friendly attitude [that's] laugh-out-loud, raucous music for a child's ear. The voice of Ms. Bartlett as Adventurer-in-Chief is the voice of a charismatic cheerleader.
...Phil Jason
Coaste Magazine
Packed with images, facts and fun
A fact-filled, fun-filled, quizzical, colorful and (don't tell the kids) educational guide to living, playing and visiting in Southwest Florida. What's not to love?
...John Sprecher
Amazon.com reviewers
... The world through a child's eyes. Wow!
Mostly kids Guides to Sanibel, Captiva and the Ft. Myers Coast made me want to be a kid again! As a child, I explored with my beloved grandmother. Treasure hunting brought me to the beaches of Sanibel as an adult Loving to explore and seek out nature ...is deeply ingrained in me, and I offer it up to my grandchildren. This fun, colorful, and informative guidebook is a must-have for grandparents and parents that still strive to get their family out and about. Explore Ft. Myers and its island. You will want to leave playboxes and your living rooms behind!
...so much fun!
Such a cute book! Full of photos and drawings. Fun to read for kids with website info to help plan a vacation or take advantage of this beautiful area if you're fortunate to live in SW Florida. It's so evident that the author spend a lot of time putting this together.
...A captivating book
What a wonderful find this book has turned out to be! What a captivating book about Sanibel, Captiva, and Ft. Myers. Definitely not just for kids! It is a must have if you live in this area, or are planning to visit!
Reviews and Quotes about
A (mostly) Kids' Guide to Naples, Marco Island & The Everglades

Naples Florida Weekly
There's nothing square about this 8-by-8-inch high-energy book. It's the hip answer to youngsters who visit Naples and say, "I'm bored. What are we going to do?" It just explodes with delicious information about this corner of Southwest Florida with a focus on children's activities. Feedback from the Naples tourism industry has been exuberant.
Everywhere, the text offers a child-friendly voice with good-natured wit. Ms. Bartlett bills herself as the "Adventurer in Chief," and no child, parent or grandparent will deny the powerful appeal of her upbeat, lighthearted guidance. And, if you're not ready to guide those kids around yet, don't worry. The book in itself is a most delightful and surprising trip. No kidding.
…Phil Jason
Huffington Post
I found a book that speaks to children, enriches their curiosity and is just plain fun at the same time. The book is called A (Mostly) Kids' Guide to Naples, Marco Island, and the Everglades. While kids will most certainly love it, the book is definitely not just for them. [The book] is packed with tidbits of regional history and trivia that even parents, grandparents and all adults will enjoy.
…Kristen Houghton
USA Today
For a fun and complete guide to Naples for families, look for the new colorful "A (mostly) Kids' Guide to Naples, Marco Island & the Everglades" guidebook.
…Chelle Koster Walton
Marco Eagle
Hang onto your kayak paddle and don't miss this great new book by Karen Bartlett. This is such a totally fun and useful book for anyone who has kids or is lucky enough to have them visit. It is chock-full of fun stuff to do and lots of information about Naples, Marco Island and the Everglades. Don't let anyone say, "There's nothing to do down here!" This book is proof that there is so much to do and learn that there just isn't enough time to do it all.
…Joan Krzykowski, Sunshine Booksellers
Fort Myers News-Press
Whether you have kids or just feel like one, there's a long and growing list of things to see and do in our version of paradise. A wonderful new book hot off the presses will not only guide you through activity choices, but will answer questions that you hadn't even thought to ask. Things like, "Is it true that there are angels and ghosts in the swamp, and grass-eating cows living underwater?"
I was scanning the book, got sucked in and read the entire thing. It's not only fun for kids, but parents and grandparents will enjoy it and learn a lot about the area to boot.
…JoNell Modys
Mostly Kids' Guides is a gem for families visiting the west coast of Florida. My kids have dogeared at least a dozen pages for our next trip to Naples. Great job, Karen T. Bartlett!
…Daphne Nikolopoulos , Novelist
Retailers & Locals
I love the way Karen writes, as if she's speaking directly to me.
…Susan Kreski
Owner, Giggle Moon
Every visitor should have this book!
…Dee Ward, Gift Shop Associate
Naples Grande Beach Resort
If anyone ever doubted Naples, Florida as an exciting family destination, this jam-packed guidebook has exquisitely dispelled that notion. On behalf of the City of Naples, thank you Karen T. Bartlett for showing that our fair city is rich with experiences for every age.
…John F. Sorey III
Mayor, City of Naples
A long-awaited and much-needed guidebook.
...Jack Wert
Executive Director, Paradise Coast CVB
I couldn't wait to devour your new book. I love it! I am using it to assist guests in our concierge gazebo on Third Street South.
…Susan Becker
Third Street Concierge
Amazon.com reviewers
…"I would give this book six stars if I could, and highly recommend it to anyone who lives in or visits the Naples area."
…"Having lived in Naples with kids for the past decade, all I can say is I wish this book had come out back then!"
…"This book is just plain flat-out fun. I work in the tourism industry in Southwest Florida, and on top of that I have children, and I still was surprised at all the local trivia and family activities I'm finding out about in this book. Great photos, funny writing, good solid research. My wife and I are inspired to get out and have some new adventures. With or without our kids."
…"I purchased six of these wonderful books for gifts and for myself. I sell real estate in the area, I put them in my closing gift baskets and that's what they remember the most."
… "A fun read for adults as well as children."
… "A must-have read for parents and children! It's extremely well written, entertaining and unique in perspective."
For more information contact
Karen T. Bartlett, Adventurer in Chief
Mostly Kids' Guides
239-595-9026; MostlyKidsGuides@gmail.com
www.mostlykidsguides.com