As an author, parent and educator, I am a huge proponent of getting kids to read real books. Ebooks are fine, of course. But holding a real book in your hands and turning the pages is a precious experience that all children should have. You make a connection with a book and you savor the time spent with it. That being said, getting kids away from electronic games and other activities can present a challenge.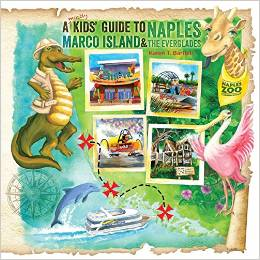 The book a child receives has to be a funfest of color, excitement and interesting information. I found a book that speaks to children, enriches their curiosity and is just plain fun at the same time. The book is called, A (Mostly) Kids' Guide to Naples, Marco Island, and the Everglades and it is the first in a series of kids' guide books written by Karen T. Bartlett, an award-winning photographer, writer and author of 11 destination books for adults.
An 80-page soft cover book, with more than 150 full color photographs, this beautiful info-laden book is a fun and humorous kids'-eye view of the beaches, nature preserves, attractions and experiences on land and sea. But while kids will most certainly love it, the book is definitely not just for them. A Kids' Guide to Naples, Marco Island, and the Everglades is packed with tidbits of regional history and trivia that even parents, grandparents and all adults will enjoy. I recommended this book to teachers at my local elementary school and they, and their students, love it. As one teacher said,
It not only provides children with a wealth of information about specific places in our country but also provides colorful photos and illustrations that visually engage the young exploring mind. I love the illustrations, the expert photography, and all the exciting places the book describes in detail.
Another great part of this book is that each colorful page stands on its own with fun facts. Karen T. Bartlett knows what piques the interest of children and she has masterfully crafted a wonderful book that satisfies a child's curiosity.
Ms. Bartlett did not start out writing books for children; she has had an interesting and varied career. Her first job was as a gofer and writer for a small magazine publisher. Later she ventured out and began her own ad agency, ("I was young and had no fear!"), which, according to the trade journal, PRWeek, evolved into one of the top seven PR firms in the Southeastern U.S. She garnered her a gold ADDY for this success.
Karen's next career change was as a travel writer. This she did for 12 years until she was approached by a coffee table book publisher to write the text for a Naples, Florida destination photography book. That book became one of the publishers' top-sellers. Subsequently she went on to write, photograph, and edit several other books for that them.

In 2014, Karen made the commitment to herself to launch her own publishing business focusing on kids' guide books, a plan that had been in the back of her mind for quite some time. She took all the financial risk but was rewarded with having complete design and copy control. Karen went totally outside the box but, since she was the boss, there was nobody to say she couldn't! Talk about having no fear. Her commitment paid off in the form of a beautifully created book.
A (Mostly) Kids' Guide to Naples, Marco Island, and the Everglades is one book that I highly recommend because it sparks those very precious commodities in the mind of children; their curiosity and imaginations.
There is one person in the world you really have to thank for having given you an extraordinary gift that lasts a lifetime and leads you to new and exciting worlds. That is the gift of reading. Take a fun journey with A (Mostly) Kids' Guide to Naples, Marco Island, and the Everglades and enjoy!