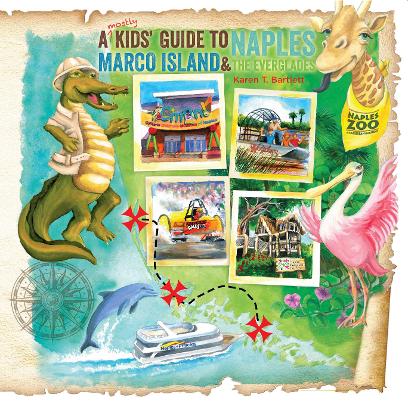 This is the one must have guidebook for families with kids age toddler to teen who are planning a visit to the Gulf Coast of Southwest Florida, as well as newcomers and local kids who want to find even more exciting things to do in their own backyard.
The 80 page softcover book, with more than 200 photos and illustrations, is a fun and humorous kids'-eye view of the beaches, nature preserves, attractions and experiences on land and sea.
From awesome museums and attractions in sophisticated Naples to outrageously exciting adventures deep in the Everglades, A (mostly) Kids' Guide to Naples, Marco Island & The Everglades is packed with tidbits of regional history and trivia that even parents, grandparents, educators and armchair travelers will love.
Grownups will laugh out loud right along with the kids at some of the strange stories and quirky creatures that inhabit this exciting land. Airboats and swamp buggies, pirates and Indians, even the legendary Skunk Ape... it's all inside, along with a comprehensive listing with more than 120 websites and phone numbers.
A (mostly) Kid's Guide to Naples, Marco Island & The Everglades is an essential tool for Realtors, concierges, tourism professionals, convention and meeting planners.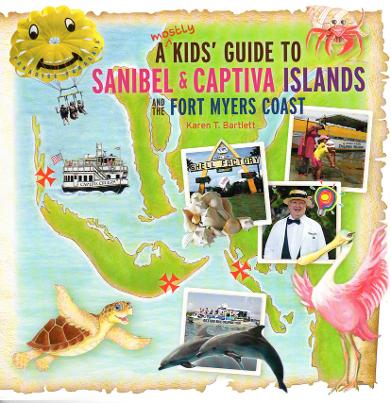 FROM PURPLE BLOBS AND DESERT ISLANDS...
...to the laboratory of America's most inventive inventor, this outrageously colorful 80-page family guidebook is everything a parent, grandparent, teacher and school-age kid needs to discover the awesomeness that awaits on their vacation, field trip or weekend adventure.
BANISH THE THOUGHT OF AN ORDINARY GUIDEBOOK!
With more than 500 photos and artful illustrations, this book is a feast of freaky factoids, hilarious quizzes, and a gazillion choices of indoor attractions and outdoor adventures for all ages. Whether you're looking for a cool excuse to get muddy, a super-fun reason to dress up, a great beach or water adventure, or the perfect spot for a birthday party, it's all inside. There are inside tips on free things to do, a monthly calendar of events and festivals, and finally, all the phone numbers and websites you need for the details.
EXPECT THE UNEXPECTED!
Like what? Like a real-life sea creature with the head of a donkey, the tail of a monkey and the pouch of a kangaroo (hint: it's a seahorse). Like a restaurant at the end of a yellow brick road where waiters wear chickens on their heads. Like where you can be a pirate on a pirate ship, or a real Junior Ranger, or a mango-throwing champion. Of course, that's not all!
A (mostly) Kids' Guide to Sanibel & Captiva Island and the Fort Myers Coast spans the generations, making it an enchanting read for parents, grandparents, educators, armchair travelers and even adults without children.
Marigold the Loggerhead Turtle, Freckles the Hermit Crab and a roseate spoonbill names Rosie get into the conversation, along with a few dastardly pirates who provide helpful (and sometimes quite impertinent) commentary.